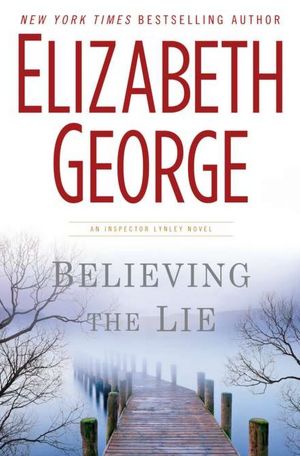 Title: Believing the lie
Author: Elizabeth George
Pages: 688
Rating:
Inspector Thoms Lynley is mysified when he's sent undercover to investigate the death of Ian Cresswell at the request of the man's uncle, the wealthy and influential Bernard Fairclough. The death has been ruled an accidental drowing, and nothing on the surface indicates otherwise. But when Linley enlists the help of his friends Simon and Deborah St. James, the trio's digging soon reveals that the Fiarclough clan is awash in secrets, lies, and movies.
Deborah's investigation of the prime suspect-Bernard's prodigal son Nicholas, a recovering drug addict leads her to Nicholasìs wife, a woman with whom she feels a kinship, a woman as fiercely protective as she is beautiful. Lynley and Simon delve for information from the rest of the family, including the victim's bitter ex-wife and the man he left her for, and Bernard himself. As the investigation escalates, the Fairclough family's veneer cracks, with deception and self-delusion threatening te destroy everyone from the Fairclough patriarch to Tim, the troubled son Ian left behind.
My thought:
Elizabeth George is a Goddes for the way she creates new worlds, outstanding characters and plots so hard to seep through.
So.. Why would give her only 3 stars?!
It was really hard to finish this book and everytime I had time to read, I spent it doing something else. I fell asleep after ten pages each time and it took me almost one month to read the word "end".
The plot is not a real plot: ok, we kinda have a murder to investigate.. But it only takes 1/4 of the whole story: we encounter too many characters and sub-plots, this time and everything gets really confused. There are also too many themes to deal with: pornography, pedophilia, sterility and so on.
Problem is, I think Mrs George lost herself dealing with too many pages in her books; first novels about Linley and Havers were way shorter then the last two or three, and they were perfect! Now -altough is always pleasant going through all Elizabeth's ideas, it's getting frustrating.
Furthermore when Linley and Havers: 1) work outside London plus 2) work detached, the lose their aura, they are the shadows of themselves and not so much enjoyable, that's it!!
Isabelle Ardery.. Oh, so unpleasant! Really, I think Elizabeth George was depicting a person she disliked, while creating this character!!
But the most annoying character over all is Deborah. Seriously!! Simon is an angel, forced to listen, understand, console Deborah and fix her mistakes.
After this story, If I were him, I would have asked for divorce ._.
Ok, I know I didn't make a good description of this book, but I would recommend it to all Elizabeth George, Linely and Havers' fan, because as usual, she writes as only great writers can do. Astonishing, really!